Earlier this week the City of Portland put out a report on their neighbourhood greenways (historically called neighbourhood bikeways), which like Vancouver, formed the backbone of their biking network for several decades. There has been a lot of talk in Portland about the frankly terrible conditions that some of the greenways have descended into: lots of fast moving cars making biking downright uncomfortable and dangerous.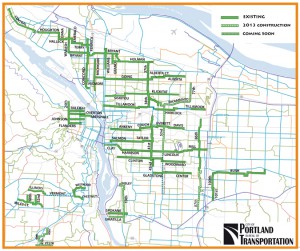 What makes the report interesting is that is the first that truly digs into the existing conditions and sets out clear targets for greenways, which have traditionally get a sign and not much else (as anybody riding on Vancouver St or Haultain in the City of Victoria can tell you). Looking at the report, I had a few thoughts about what it gets right and what could be improved.
What the report gets right
It exists
No other city that I know of has done a comprehensive look at their greenways/bikeways in this way, especially looking at motor vehicle volumes and speeds. Kudos to PBOT for taking this one.
It highlighted the role a greenway plays beyond biking
Bikeways were rebranded greenway to recognize that their role goes far beyond making biking more comfortable for the All-ages and Abilities crowd. Portland has been great about creating people-spaces along these greenways.
The focus was on reducing motor vehicle speed and volumes
In the grand scheme of things, nothing else matters. Bioswales, signage, wayfinding and pretty pavement don't matter unless the number of cars and how fast they are going drops

It sets targets
Neighbourhood bikeways lack good design criteria. Unlike say, a bike lane, there isn't a set of universally accepted standards. There were informal numbers, such as 1,000 cars per day, or 30 km/h, but until now nobody has truly coded that into their policy documents in such a strong way. This report lays it out in bold, clear terms, allowing staff, councils and advocates to start a conversation at the same place.
What needs some work
Cartography
Sorry PBOT, but "No Data" and "Meets the Standard" are completely different. No Data means just that; conflating it with areas that have been tested and meet the standard tells us nothing. PBOT should reissue these maps clearly separating out No Data from Meets Standard.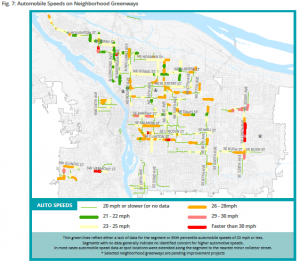 Acceptable vs maximum
The report rather sets out 1,500 cars/day as the acceptable, but 2,000 as the maximum. But bizarrely, from 1,500 to 2,000 cars per day is unacceptable, yet action is only taken until the number passes 2,000. Given that traffic volumes can vary huge amounts per day (30%+), the threshold for action should be 1,500, not 2,000.
(Yes, I am aware of the Oregon-specific legislative requirement regarding speed limits and cars per day)
Final Thoughts
All in all, an excellent report that other cities should emulate. Neighbourhood greenways/bikeways are such an important part of the city fabric, both for bikes and more, that
If you want to read more, I suggest any of the posts on the topic by the always excellent BikePortland:
New activist group off to fast start: First protest ride is tonight
Council vote today would allow more diverters on neighborhood greenways
Neighborhood greenways breeze through council with unanimous support