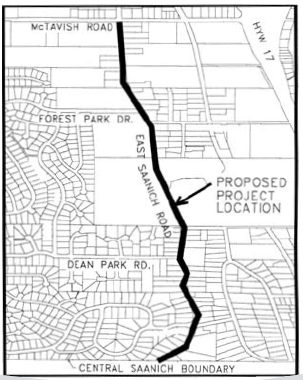 I will be at the East Saanich Rd. bike lane project Open House tonight. It is being run the Municipality of North Saanich and is being held at the Panorama Rec. Centre and runs from 5pm to 8pm. On hand will be North Saanich engineering staff to discuss the proposed plan.
This project ties into a similar Central Saanich project that was funded by the Federal and Provinicial governments (press release – PDF & LocalMotion projects page). According to this news story, the work on that should start in June and be done by October.
Maddeningly, I couldn't find any information about Federal gov. money in the North Saanich portion. The above linked LocalMotion page lists $361,284 of Provinical money, which is cost shared 50/50 with the municipality.
Regardless, this is a much needed project. It provides yet another north-south route to complement West Saanich Rd. and the Lochside Trail. Hope to see some familiar faces there!