On my way to a friends place last night, I was treated to the sight of two different boats filled with paddlers do battle with the strong in-rushing tide at the Tillicum Narrows. This part of the Gorge is famous for its fast currents, which used to cause a tidal waterfall until a local citizen dynamited it. For more info, Wikimapia has a decent article on the narrows, also called the Canal of Camosack by the native Songhees people.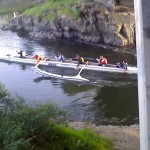 First to make the attempt was this group of 6 paddlers in an outrigger canoe. They made two separate attempts while I watched; these photos are actually from their second attempt. Both times they struggled mightly against the current, the boat zigzagging as the current caught first one side of the bow then the other. They almost made it both times, but simply ran out of energy. Frustration was pretty evident as their second attempt ended with the lead paddler telling her fellow crew to give up and the sweep/steerer in the rear attempting to keep them going.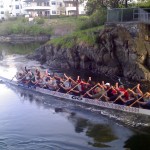 Between the canoeists failed attempts, a large team of dragon boaters showed the clear difference between 5 paddlers and 20. They powered right through the rapids in a matter of a few seconds without thought. Their speed surprised me, causing me to almost miss getting any photos of them.
Fiberglass canoes and replica dragon boats were not the first rowing vessels to ply these waters. Gorge regattas have been held since at least the 1890s, as these images from the BC archives attest to. I love the contrast in the uniforms in the picture on the left from today and the one on the right from then.
I will apologize for the terrible quality of the pictures. I had left my actual camera at home and thus only had my phone, which takes surprisingly good pictures, given I cannot control focus point, exposure or anything else mildly useful.