Beyond the Haultain bikeway is the rest of my route to work, along the City's of Victoria's bikeways through to Vancouver St.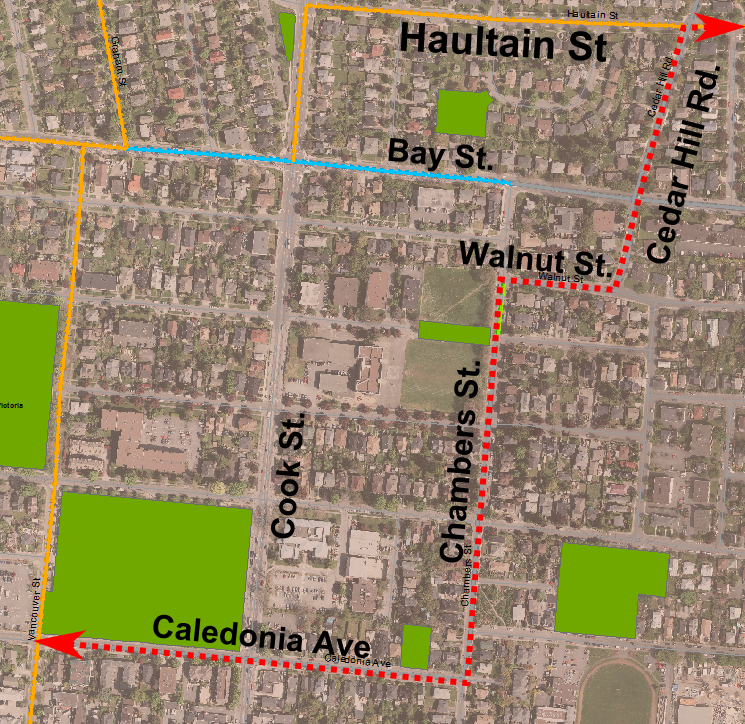 @Bay St.
Like the other busy road without an barrier, Foul Bay Rd., Bay St. badly needs a barrier. There is enough road width and the hill just to the west makes the sightlines terrible here.

along Walnut St. and Chambers St.
These are nice quite residential roads with a few small pavement issues, so not much needs to be done here. I would mention that in the spirit of small details matter, I want to give a shoutout to the City of Victoria Engineering Department. They added small ramps at the northern end of Chambers St. where it is closed off to remove the bump that comes from crossing the two sidewalks. A nice little touch!
on Caledonia from Cook St. to Chambers St.
Another place of truly terrible pavement. This stretch rivals Haultain St. in Oak Bay for sheer terribleness.
@ Cook St.
Another challenging road crossing due to the number of vehicles that travel through this intersection (although I suspect a full intersection count would show most of them turn left and travel northbound on Cook St.)

on Caledonia from Cook St. to Vancouver St.
There is a lot of bicycle traffic and a lot of car traffic too. Lots of vehicles head north Vancouver St. and then turn east onto Caledonia St. and a fair number are already travelling along Caledonia. A few speed humps might make the traffic a bit calmer (although the major issue is actually the narrow roadway and the traffic is already moving pretty slow anyway)
@ Vancouver St.
Given the City of Victoria is discussing a plaza on Vancouver St. beside Royal Athletic Park anyway, fully closing this intersection to all through motor vehicle traffic might just be the thing needed. A less radical solution would be close this intersection to east-bound traffic. This would allow people to drive right up to the southern entrance of Royal Athletic Park but remove the commuting traffic onto other streets.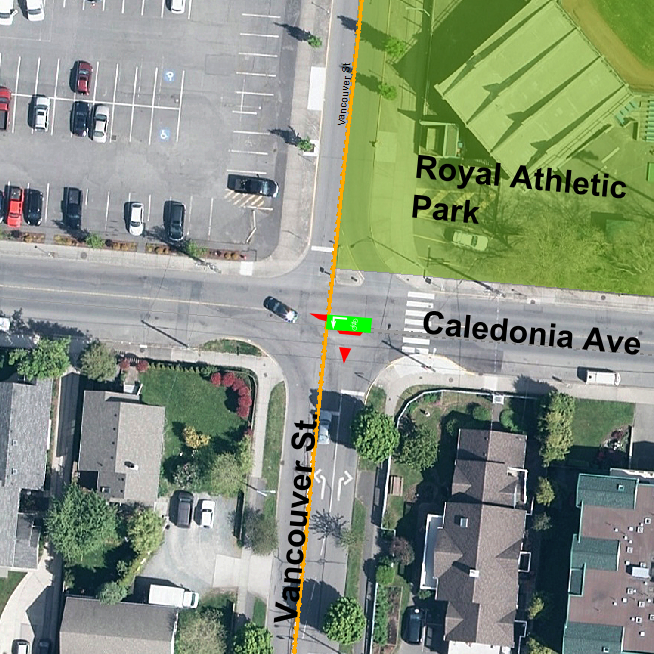 There is one possible unintended consequence of this: increased motor vehicle traffic on Vancouver St. This would need to be carefully monitoring and mitigated for if it does appear.
I plan on doing a similar set of posts for the Vancouver St. bikeway, so stay tuned!