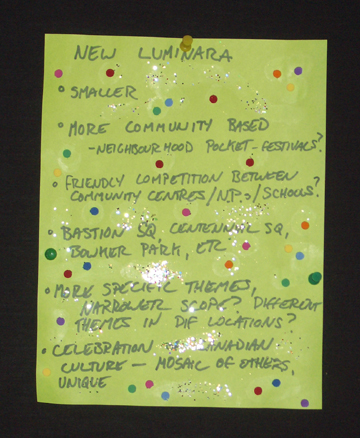 With Luminara 2010 not happening in July, Luminara host organization the Inter-Cultural Association, have organized a series visioning sessions to gather ideas for the future, of which the first was held a few Saturday's ago. Attended by about twenty people, there was a good mix of volunteers, staff and representatives of various community groups and organizations such a the City of Victoria, the Downtown Victoria Business Association and the James Bay Community Project. Many other organization sent their regrets as they were unable to attend.
Why is the ICA re-imagining Luminara? It simply grew too big, much like the 2008 Illuminares festival in Vancouver or the formerly ICA-run Folk Fest here in Victoria. With the 2009 budget around $160,000 plus five months of time by five staff paid through the federal government's Job Creation Partnerships program, Luminara was not inexpensive. What prompted the crisis this year was the funding needed either outright disappeared or was pushed back into the fall, making it hard to run a summer festival.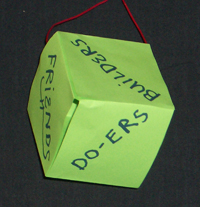 The idea of the day's activities was to drill down to the core of what makes Luminara and it quickly became clear that creativity and community pervaded nearly every single suggestion or idea that people came up with. Many organizations were suggested as potential partners, from the municipal governments to local community associations to schools to service clubs, some of whom have already expressed interest in being involved.
As Karin Scarth, the Festival Director noted at the beginning, this is merely the first of many sessions and there were a lot of interested parties who couldn't be there. You can follow the Luminara 2010 visioning page, the conversation on Facebook or email Karin directly to get on the update list. It should be an exciting few months.