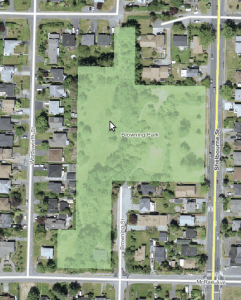 The Camosun Community Association is having a Bowker Creek Cleanup this Saturday, Nov. 14th, from 9:30 – 11:30 am in Browning Park.  Bring workgloves and gumboots. (Google Map)
Browning Park is also the site of the next piece of the Bowker Creek Greenway, with Saanich Parks building a paved multi-use trail ala the Galloping Goose. Saanich Parks claims this is the first piece, CRD says the path they built through the BC Hydro lands (yes, those BC Hydro lands) as the first. Regardless, it is exciting to see the trail slowly being knit together.
Although we didn't get as far as Browning Park, I did manage to join Ian Graeme of the Friends of Bowker Creek Society and Brenda Beckwith's Grassroots Restoration (Environmental Studies 482) class for a walk along the creek from the Oak Bay border to Hillside Mall. Ian was, as always, a great source of knowledge and inspiration and I hope some of the students caught his bug. Given the headwaters of the creek are in UVic, it would be great to see more UVic students involved. Maybe we will see a few out this weekend.
The new trail section is partly funded by the LocalMotion program from the Provincial Government, which also put money towards the Henderson Road bike lanes. LocalMotion has been an excellent source of money for bicycle and pedestrian projects over the years, as you can see from the full list of funded projects (PDF).
The next question is: who will step up to the plate and finish the next section? It wouldn't take much to take Oak Bay's section from good to truly world class, some of which involves connecting the parts that already exist already have together. Victoria could do wonders in reversing their short-sighted decision to culvert their section of the creek in the later part of the 20th century. Time, and a lot of community effort, will tell.