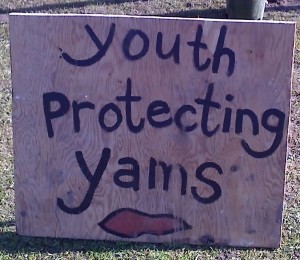 The guerrilla gardeners at UVic have — technically still are — struck again, replanting the garden in front of the McPherson Library. With the current community gardens under threat of being turned into a warehouse, students decided to take direct action and plant a garden in the middle of UVic. That work was subsequently ripped out by UVic in the middle of night, spawning this second effort.
While the UVic Student's Society, perhaps  not surprisingly, lacks an official position on the ad-hoc community garden, one of the senior UVSS people I spoke to said the UVSS lacks even a more generic statement of support for community gardens at UVic and that it " might be a good idea".
What happens next is anyone's guess. Several people I spoke to seemed to think that the university will likely wait until the summer to rip out this garden 2.0, mostly to avoid further confrontation. Bunnies might not be the only things getting culled this summer.
*Youth Protecting Youth is a pro-life group that was denied club funding by the UVSS due to their use of shock tactics with images of aborted fetuses.